Artists to converge on Washington Park for
a
Midsummer Faire
Saturday June 12, 2010 – By MARY POLETTI – Herald-Whig Staff Writer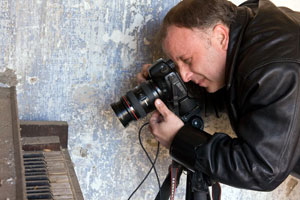 Todd Shaak of the St. Louis area, photographs a
dusty piano as part of his fine artwork. His pieces can
be seen at the upcoming Midsummer Arts Faire
in Washington Park.
To Todd Shaak, decay can hold great beauty.

"I find the beauty of once was," Shaak said. "The history of that. If these walls could talk..."

Shaak is a fine art photographer based in Collinsville, near St. Louis, specializing in urban photography around the St. Louis area. He will showcase his photography for a second year at the Midsummer Arts Faire June 25-27 in Washington Park.

A career salesman, Shaak took up photography full-time six years ago, pursuing in earnest what had been a lifelong casual interest.

He soon realized that the sights and subjects that captured his attention were popular and evocative with others as well.

"I found that there was a need, that others wanted my photography," Shaak said. "It wasn't one or two people wanting to buy my photographs. Quite a few people wanted to."

On his website (shaakphotography.com), Shaak's photography is broadly divided into two series, "St. Louis Landmarks" and "Beautifully Decayed."

"St. Louis Landmarks" showcases best-loved views of the Gateway City, such as the Gateway Arch and Busch Stadium, as well as up-close studies of intricate architectural details and more personal scenes like a flag-draped coffin at a military funeral.

In contrast, "Beautifully Decayed" shows stark, dramatic scenes of abandoned buildings and crumbling churches, marred by graffiti but still showing traces of their old personalities.

Finding the strange, terrible beauty in these urban ruins, as well as more mundane everyday scenes, is Shaak's specialty, he says.

"I find the beauty in anything," Shaak said. "I find myself photographing details of stuff that other people would ordinarily walk on by and discount."

That goes even for buildings and settings Shaak has seen hundreds of times. He tells a story of a friend visiting St. Louis from out of town who was incredulous when he saw Shaak photographing the same local landmarks Shaak was supposed to be showing him.

To flesh out his portfolio and support himself, Shaak also works in portraiture and wedding photography. His fine art photography has been commissioned for commercial purposes as well, although he hopes to branch into product photography.


Art shows are important to Shaak, who appreciates the opportunity to connect with others over his work.
Subject matter like urban decay "tends to evoke a lot of emotion in people. It connects to people," Shaak said. "If I can make a connection with someone, it really gives me the greatest joy in what I do."
At one show, Shaak said, an 88-year-old woman bought his photograph of a badly decomposed 1949 Packard car because she and her late husband of 65 years had shared an intimate moment in a Packard when they were young.
Shaak is particularly excited to return to Quincy because he won last year's Father Tom Brown Award, named for an accomplished Quincy photographer and Catholic priest. The award was very meaningful to Shaak.
"He focused on the emotions that I did as a photographer," Shaak said. "It was kind of a touching story."
While an award is something for which every artist hopes, Shaak looks forward to meeting people at Midsummer Arts Faire as much as anything else.
"My booth tends to stop a lot of people," he said. "Every type of person you can think of likes my work. It attracts many dimensions."
He operates his business, Shaak Photography, out of his home. To contact him, call 409-1971 or visit the Web site at
www.shaakphotography.com
.

Contact Us
Phone: (618) 409-1971
Email: info@shaakphotography.com

Like Shaak Photography
on Facebook!
Shaak Photography