Collinsville photographer goes all out for shots
Thursday, Oct. 09, 2008 – BY TERI MADDOX – News-Democrat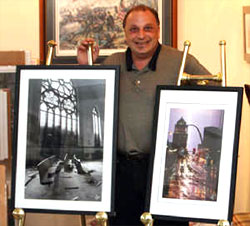 Todd Shaak with some of his photographs. The one at left is entitled "No Mass Today" and the one on the right is "A Stormy St. Louis"
Todd Shaak isn't a battlefield photographer, but he's been known to risk bodily harm to get a good shot.

The 43-year-old Collinsville man likes to capture images inside and outside abandoned schools, churches, homes, barns, service stations and other old buildings that once bustled with life.

Sometimes Shaak has to sign waivers, promising not to sue owners if he gets hurt. Sometimes he calls friends or family members to report his whereabouts -- just in case. "In some of these buildings, I could fall through the floor and nobody would ever find me," he said.

Shaak also takes photos of deteriorating vehicles, furniture, tools, sculptures, musical instruments, even beer cans.
"I can find beauty in anything," he said.

Shaak is a professional photographer who shoots weddings, school portraits and corporate commissions, but he tries to allow as much time as possible for fine-art photography.

Shaak has become known for his images of St. Louis landmarks such as the Gateway Arch, Union Station, Busch Stadium, Eads Bridge and St. Louis Art Museum -- with a twist. "I challenge myself to take photographs in such a way that's different from what everybody else would take," he said. In one shot, the arch is shown sideways, framed by two brick storefronts on Laclede's Landing and reflected in a large puddle in the alley. Shaak tried to use the same creativity with his new Busch Stadium series of about 15 photographs, which hang in the Fox Sports Midwest broadcast booth. Shaak recently has paid more attention to his "beautifully decayed" series of old buildings and objects.

One of his favorite images shows the sanctuary of an abandoned Lutheran church in North St. Louis. A towering stained-glass window provides a backdrop for broken pews and debris on the bare floor. Shaak has noticed some people get sad looks on their faces when they see the photo. "How many weddings were held there? How many funerals were held there? People used to sit there and pray," he said. "This is a 125-year-old church."

Shaak is a 1983 graduate of Collinsville High School. He owned a carpet-cleaning business and worked as a caterer and sales manager before turning his photographic hobby into a job four years ago.

"The knack of composition came naturally," he said.

Shaak has displayed his work in juried art shows throughout the St. Louis region. Last month, he won second place overall at the Taste of St. Louis festival with his black-and-white detail of the dashboard and steering wheel of a cobweb-filled Packard. The car was parked in a field along Old Route 66 in Oklahoma. Shaak stopped to take a photo while driving home from Texas. "I've always got a camera with me," he said.

Shaak's photographs sell for $65 to $150 ($125 to $400 matted and framed).

He operates his business, Shaak Photography, out of his home. To contact him, call 409-1971 or visit the Web site at www.shaakphotography.com.

Contact Us
Phone: (618) 409-1971
Email: info@shaakphotography.com

Like Shaak Photography
on Facebook!
Shaak Photography